Mastic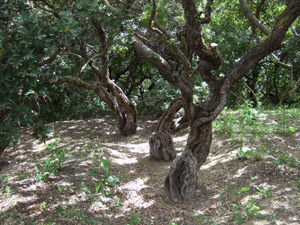 Mastic comes from the mastic tree (Pistacia Lentiscus L.) that can only be found on Chios. Through the ages mastic has been used for many purposes. A big variety of products is made from the mastic, including chewing gum, alcoholic drinks, sweets, spices, perfumes, and various chemicals; while the most important use is by the medical industry all over the world. The cultivation of the mastic has been known since ancient times and it has been strongly tied to the islands history. The importance of this unique product, made the island many times in the past a target for various conquerors. The Genoese as well as the Turks were very font of the mastic.
To get the mastic from the mastic tree, is a very precise work and takes all summer. First the ground around the tree is cleaned. After this the tree is carved with a special needle to a depth of approximately 3 mm. Now the mastic flow slowly from the tree. The first mastic is collected after fifteen days when the mastic has become more solid.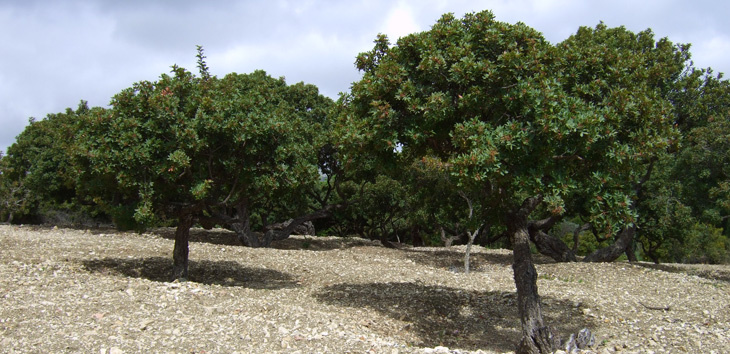 Agios Galas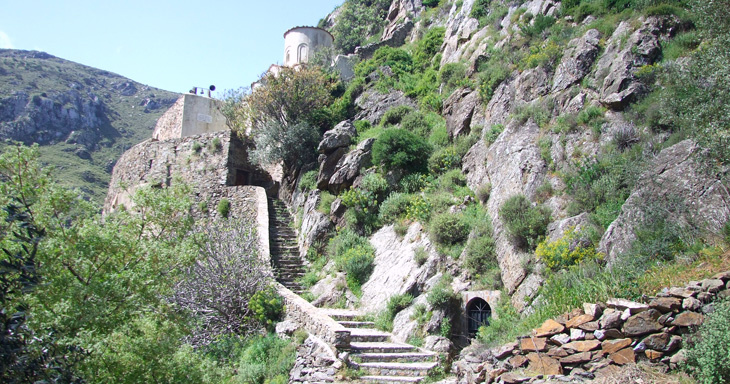 At Agios Galas there is a cave system. In this cave findings were made from the stone age. At the entrance of the cave, the church of panagia Agiogalousena is built, which dates back until the 13th century. During the Byzantine period monks lived here.
Inside the cave a second church is built with beautiful decorations. Here is the access to the rest of the cave. The entire cave has not been explored yet.
Tres Mili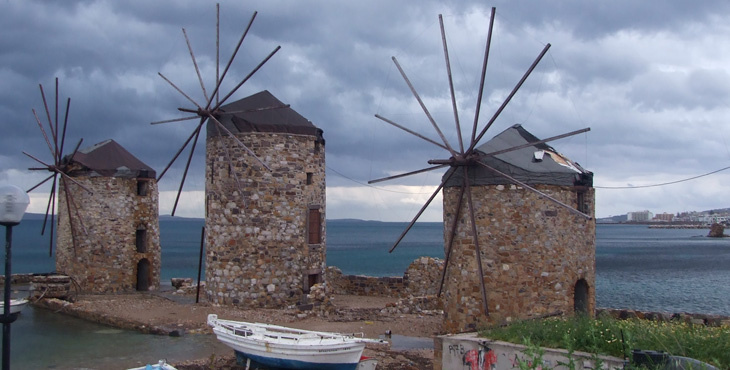 On the coastline there used to be many windmills. Taking advantage of the wind supplying the people of Chios the cheap power. Nowadays there are few of these windmills left. Just a few have been restored to their original glory.

Tulips

As you travel around Kampochora in springtime, the olive and the almond groves are all red, as far as the eye sees. Because they are full of those beautiful flowers called tulips. The spectacle is wonderful.
The dark red flowers are all around, thanks to Nature. Here, call the tulips "lalades". It is already known that when Dutch sailors passed by Chios they took along tulip corms back to their country; cultivated them and made Holland famous as the country of tulips. But now, the Municipality of Kampochora in cooperation with the Department of Environment of the Aegean University , and the Aegean Ministry, are carrying out a programme which has as a goal the reclamation of the tulip. A greenhouse and a plantation have been made (colonizing of Ververato), where the possibility of lengthening the blooming time of the flower which now blossoms in Match and April is examined.